Chiropractor Carmel IN for Peak Performance
Be Your Best at Indy Sports & Family Chiropractic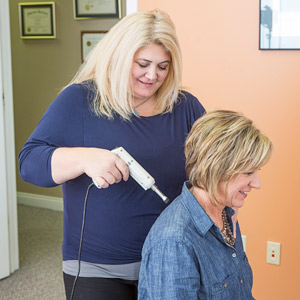 Indy Sports & Family Chiropractic is a progressive, dynamic, state-of-the-art facility that is committed to delivering natural health care. Carmel Chiropractors Dr. Karen Bisesi and Dr. Sam Wetherell provide a variety of health solutions to create an individual approach for you. We provide care for everyone from families to those participating in all levels of sports.
Our mission is to improve your quality of life through corrective and wellness care of the spine and nervous system. We are here to guide you through life's difficult times, acting as your safety net and informational resource. Whether you've just been diagnosed or hurt, or have been battling a chronic problem, Dr. Karen is here to help determine the best approach to help you, whether it be our practice or elsewhere in our community.
Sports Chiropractic Care
Dr. Karen specializes in care for athletes of all levels, from youth to professional. Our focus on helping you reach your highest levels of performance means you can release your full potential for being a powerful, superior competitor. With three of her own children in sports, Dr. Karen is especially talented at working with adolescent athletes.
Our varied treatment options will be recommended to you based on your particular needs:
A Certified Chiropractic Extremity Practitioner (CCEP)
Proper spinal alignment can prevent degeneration of the spinal joints. Dr. Karen is qualified to not only care for your spine but the entire body, as a Certified Chiropractic Extremity Practitioner (CCEP). She is extremely skilled in thoroughly evaluating, then prescribing the treatment to return you to health as quickly as possible.
Whether you have problems in the hip, ankle, knee, shoulder, elbow, wrist or anywhere else in the body, Dr. Karen's technique will pinpoint the source to ensure proper correction.
Contact us today to schedule a complimentary consultation with Chiropractor Carmel IN Dr. Karen! We offer same-day appointments and accept insurance coverage.